Protection concept for our hotel & restaurant
The health of our guests and employees is our top priority, which is why we implemented appropriate measures in accordance with the protection concept in accordance with the guidelines of the Federal Office of Public Health (BAG) and with the support of HotelSuisse.
We kindly ask you to refrain from your stay if you have had symptoms of illness in the past few days which indicate a respiratory illness. Please contact us if you experience symptoms of illness during or after your stay.
 Due to the restrictions, our services may be restricted, and in certain areas the permitted number of people is also limited.
 We continuously adapt the protective measures to the changing requirements and recommendations and our employees are continuously instructed.
 We clean and disinfect surfaces, objects and work material that are frequently used in intensive cycles (e.g. door latches, lift and light switches). Our employees also wear protective masks and gloves for special tasks.
Please note the following recommendations and information posted.
1. Comply with the rule of 2 m from other guests, groups of guests and employees. This also applies to toilets, cloakrooms, showers and relaxation rooms.
2nd Floor markings / barriers are attached in critical areas. Where the distance cannot be maintained, cutting discs are available.
3rd In the entrance areas of closed rooms (library, lounges, wellness, etc.), adhere to the maximum number of people permitted and follow the instructions of our employees. Follow the distance rules here too.
4th Wash / disinfect your hands regularly. Avoid touching any foreign objects or disinfect your hands afterwards.
5. In our locations, consumption may only be taken while seated. Let the staff assign you your space and observe the distance rules.
6. Have your consumption written in your room or pay by card - contactless if possible.
7. There are no requirements regarding protective masks, but you can use your own at any time.
8th. Are you a foreign guest without an overnight stay in a hotel? Please give us your contact details so that the cantonal medical service can contact you if necessary. The data will be treated confidentially and destroyed after the retention period of 14 days.
We thank you for your understanding and assistance and will be happy to answer your questions.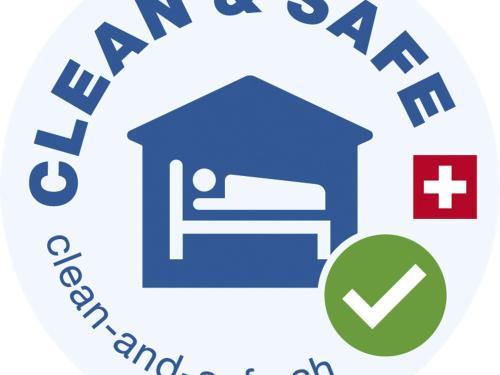 Weitere Informationen zu "Clen & Safe" erhalten Sie
hier